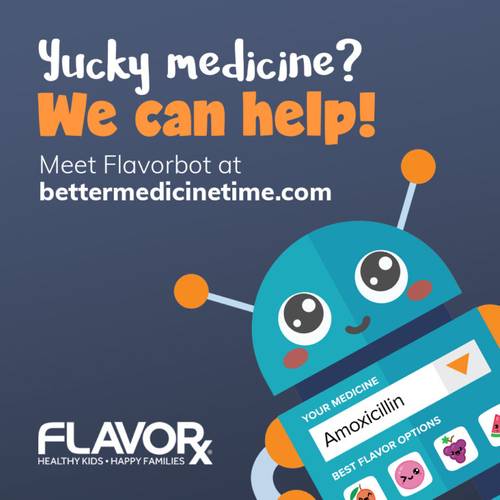 Oral Prescription Flavoring
When it comes to kids taking their medicine it's really important that everything goes down smoothly. Medicine can't work if your child won't take it or spits it back out.
That's why we proudly offer FLAVORx in our pharmacy. With many great flavor options to choose from, we can customize the taste of almost all liquid prescriptions and OTC medications. This improves the palatability of the drugs and lets your child choose his or her favorite flavor, making them all the more likely to take the medication as the doctor directed.
Our pharmacy location now offers prescription flavoring with FLAVORx. FLAVORx is a tool used by pharmacists to safely flavor both liquid prescriptions and over-the-counter medications to make them more palatable without altering their effectiveness.
Medication Flavoring -Studies show that improving the taste of medications increases patient compliance to over 90%, from an average of 50%. FLAVORx does not make medicine taste like candy, but makes it taste better for children, adults and even animals.
We currently offer several flavors to choose from including yummy Orange Cream, Chocolate Silk Pie and Fruit Punch — meaning that any patient can find a flavor to suit their taste! Contact us today to learn more.